Welcome to Fast Connect
Cellphone Repair
Computer Repair
hardware & software
Apple Watch Repair
Ipad Screen Repair
Cellphone Repair & Accessories
welcome to Fast Connect - Your Premier Cellphone Repair and Accessories Destination in Miami Beach!
At Fast Connect, we pride ourselves on being your one-stop solution for all your cellphone, computer, and tablet repair needs. With a dedicated team of skilled technicians and a wide range of high-quality accessories, we are committed to delivering a service that's truly special and exceptionally fast.
Why Choose Fast Connect?
Expert Technicians: Our team consists of experienced and certified technicians who possess an in-depth understanding of the latest cellphone, computer, and tablet technologies. They have the expertise to diagnose and fix a diverse range of issues efficiently.
Quick Turnaround: We understand the importance of your devices in your daily life, which is why we strive to provide a lightning-fast turnaround time. Our goal is to get your device back in your hands as soon as possible, minimizing any inconvenience caused.
Quality Parts: We only use genuine and top-grade replacement parts for all our repairs, ensuring that your devices function optimally and reliably once repaired.
Comprehensive Services: Whether you're dealing with a cracked screen, battery problems, water damage, or any other issue, we have the knowledge and tools to handle a wide variety of repairs for cellphones, computers, and tablets.
Customer-Centric Approach: At Fast Connect, our customers are at the heart of everything we do. We take the time to understand your needs and provide personalized solutions to meet your requirements.
Warranty Assurance: For added peace of mind, we back our repair services and parts with a warranty, giving you confidence in the reliability of our work.
Extensive Accessories Collection: In addition to repairs, we offer a comprehensive selection of high-quality accessories for your devices. From protective cases to charging solutions, we have everything you need to enhance your tech experience.
Experience the Fast Connect Difference!
With a focus on precision, speed, and exceptional customer service, Fast Connect stands apart as the go-to destination for all your cellphone, computer, and tablet needs. Our commitment to excellence and customer satisfaction sets us apart, ensuring that you have a hassle-free and pleasant experience with us.
Visit our store in Miami Beach today or explore our website to discover how Fast Connect can elevate your tech experience with our top-tier repair services and premium accessories.
Your devices are in good hands with Fast Connect – Your Ultimate Tech Solution!
Mission
At Fast Connect, our mission is to be the leading provider of top-quality cellphone repair and accessories in Miami Beach. We are dedicated to delivering fast, reliable, and expert repair services for cellphones, computers, and tablets, using only genuine parts to ensure the highest level of customer satisfaction. Our goal is to provide a seamless and enjoyable experience, offering personalized solutions and a comprehensive range of premium accessories to enhance our customers' tech experience. With a focus on excellence, efficiency, and customer-centricity, we strive to be the go-to destination for all tech-related needs in our community. Fast Connect is committed to empowering our customers with reliable devices and exceptional service, making their tech journey easier and more enjoyable.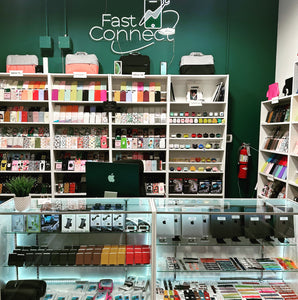 Our store
812 Lincoln LN North 
Miami Beach  
Mon - Fri, 10am - 9pm
Saturday, 10am - 9pm
Sunday, 10am - 9pm